Take Probiotics to Boost your Immune System this Fall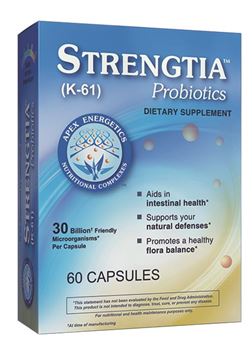 Does your immune system need a boost? Strengitia, one of the best Probiotics I have found, is used to help build & maintain intestinal health' strengthen your natural defenses' and support healthy flora balance. Available at Achtermann Chiropractic. Strengtia includes 30 billion friendly bacteria and living organisms per capsule. This special formula is designed to promote intestinal health and create a strong natural defense system.  I take one/ day to stay healthy during cold and flu season.
This supplement contains 60 vegetable capsules per container. It does NOT include gluten, wheat, sugar, soy, egg, preservatives or fillers. Allergy Warning: May contain traces of dairy.