Ginger Essential Oil
Zingiber officinale
An excellent digestive tonic, Ginger essential oil has warming and stimulating effects on the body. It is well known for its ability to warm the stomach. doTERRA Ginger essential oil is sourced in Madagascar and Indonesia for a potent oil that may ease occasional feelings of nausea.
Usage Tips:
During a long car ride, diffuse or place a drop of Ginger in the palm of your hand and inhale.
Add a few drops to doTERRA Fractionated Coconut Oil and apply over lower abdomen for a soothing massage.
Use Ginger essential oil in your favorite sweet and savory dishes.
What Is Ginger Essential Oil Good For?
Hot, spicy, earthy, and sweet, Ginger is the world's most widely cultivated spice and people have been enjoying its many benefits for over 5,000 years. A relative of cardamom and turmeric, ginger is native to Asia, where it's popularly used as digestive tonic and a featured ingredient in curries, soups, and stir fries. Traditional Chinese health practices suggests ginger for its warming and stimulating effects, while Ayurvedic practices focus on ginger's digestive benefits.
In ancient Greece, people ate thin slices of ginger wrapped in bread to aid digestion. In Europe, this idea evolved into grating the ginger rhizome into the bread dough, and gingerbread was born. During the Middle Ages, gingerbread guilds controlled the production of this valuable sweet, which was enjoyed for its flavor as well as its ability to support healthy digestion.*
Is Ginger Good for Digestion?
The primary constituent of ginger is Zingiberene, which has been researched for its ability to reduce bloating.* doTERRA Ginger essential oil is distilled from ginger plants that are grown and harvested in Madagascar. This oil delivers antioxidant protection and may help reduce bloating, gas, and occasional indigestion.* Experimental research has shown that Ginger essential oil has beneficial digestive effects when taken internally.*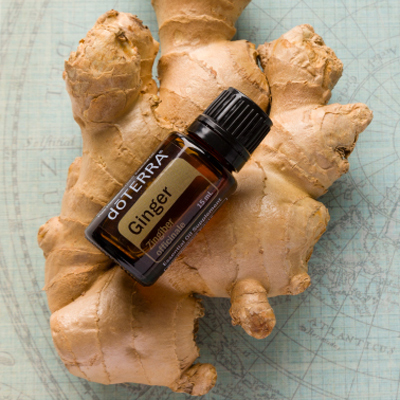 ---
Honey Ginger Lemonade
A twist on classic lemonade, Honey Ginger lemonade is the perfect refreshing drink to help lift your mood. The juiced ginger helps add a little spicy kick, while both lemon juice and Lemon oil keep the recipe light and cool. The addition of Lemon oil is important as it provides cleansing benefits for your organs.* Raw honey has been used since ancient times for a variety of health purposes. In this recipe, the raw honey is a necessary addition—not only as a sweetener, but also as an antibacterial element.

Ingredients
1–2 tablespoons ginger, juiced
3 lemons, juiced
3–5 drops Lemon oil
1 cup water
⅓ cup raw honey
1 cup ice

Instructions
Juice lemons and ginger. To juice ginger, add ginger pieces to a juicer or a blender. Blend or juice. Separate pulp from the juice with a cheesecloth.
Combine all ingredients into a two-quart pitcher. Mix well.
Chill in the fridge until ready to serve. Makes two quarts.
Tips:
You can replace juiced ginger with 1 to 2 drops of Ginger oil, if desired. Another yummy option for ginger essential oil is adding a couple drops to sparkling water for a no-sugar delicious treat!